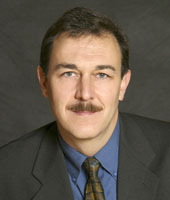 Reid V. Mueller, MD
Immediate Past President Oregon Society of Plastic Surgeons
Associate Professor, Department of Surgery, OHSU
History
Over the past ten years, Dr. Mueller has practiced and taught plastic surgery at the Oregon Health and Sciences University, and at the Dohernbecher Children's Hospital in Portland Oregon. Prior to arriving in Portland Dr. Mueller trained at the prestigious University of California - San Fransciso where he completed surgical residencies in both general surgery and plastic and reconstructive surgery. During his training he did pioneering research into the biology of scarring in a effort to understand and reduce scars for his patients.
Special Interests
Dr. Mueller has special interest in facial cosmetic surgery, body contouring, breast surgery and breast reconstruction. He has used his unique knowledge of how the body heals to develop minimal scar techniques now adopted around the world. Dr. Mueller is one of the pioneers in endoscopic surgery in the United States, using surgical telescopes to preform surgery with small hidden incisions, where previously a much larger disfiguring incision was needed.
Memberships and Affiliations
Dr. Mueller is the president of the Oregon Society of Plastic Surgeons and is a member of the American Society for Plastic and Reconstructive Surgery (ASPS), and the American Society of Maxillofacial Surgeons (ASMS). Members of the American Society of Plastic Reconstructive Surgeons (ASPS), are among a select group of board-certified plastic surgeons who have attained the highest level of achievement in plastic surgical training, continuing education, and clinical experience.
Public Service
Dr. Mueller donates his time and services to treat undeserved children around the world. He most recently returned from a medical mission with his wife and children in Guatemala treating over 70 children with burns, cleft lip and palate, and congenital deformities of the hands.
Publications
Dr. Mueller has published and presented over 100 national and international papers including chapters in many of the classic plastic surgery textbooks. He lectures regularly around the world about minimal scar techniques used in the treatment of facial injuries.