How to measure the drainage:
Empty the drainage bulb before you go to bed each night and anytime during the day when it is half full. It is important for you to write down the time and amount of drainage on the drain log. The color will change from red to reddish-yellow to yellow. The fluid in the tube may appear cloudy and have some gelatinous material as well. The amount of drainage will slowly decrease day by day.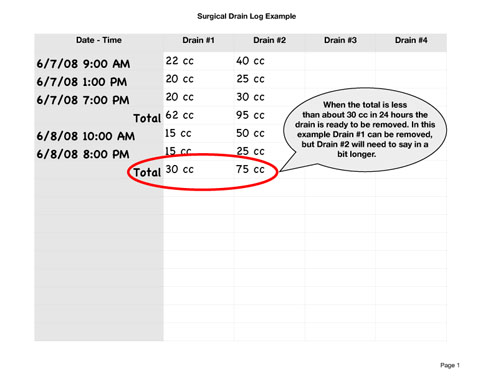 Wash your hand with soap and water.
Open the spout of the drainage container.
Pour the contents into a measuring cup.
Write the time and amount of drainage on the chart.
Discard the fluid into the toilet.
Close the drainage container by squeezing the bulb as flat a possible and then (while squeezing it) replace the stopper.
If you have other drains then repeat the process.
You may rinse the outside of the bulb with water and wash your hand when you are done.